Solar Pool Heater Panels Can Extend Your Swimming Season Enjoyment!
A warmer pool can increase your  swim season more months of the year. Raise your pool temperature by 10 Degrees or more with Florida's Best Solar Pool Heating System LET THE SUN HEAT YOUR POOL FOR FREE! Eliminate the expensive fuel cost of traditional pool heaters
Summer Sale!




$500 off solar pool heaters 7+ Solar Panels or more!




18 Months No Payment No interest!
Expires March 31st, 2018
Commercial Solar Pool heater: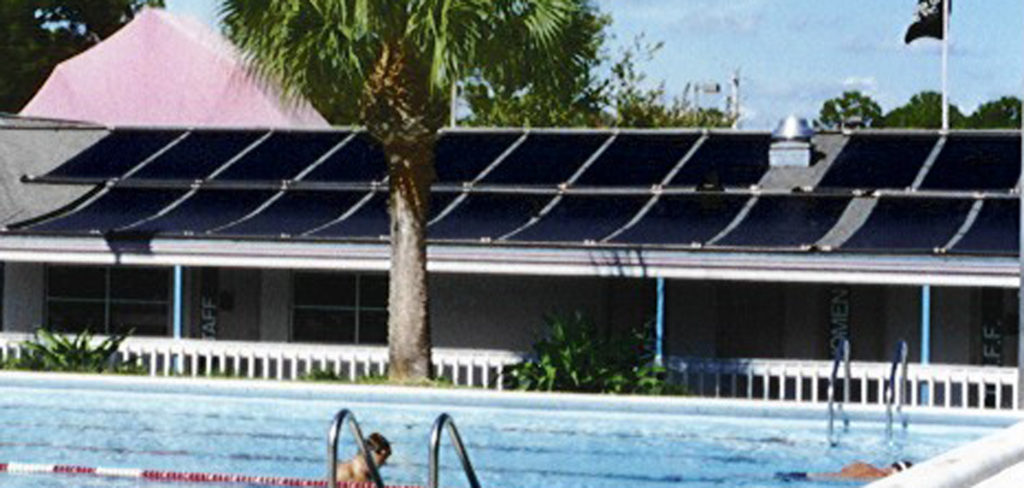 Residential Solar Pool heater: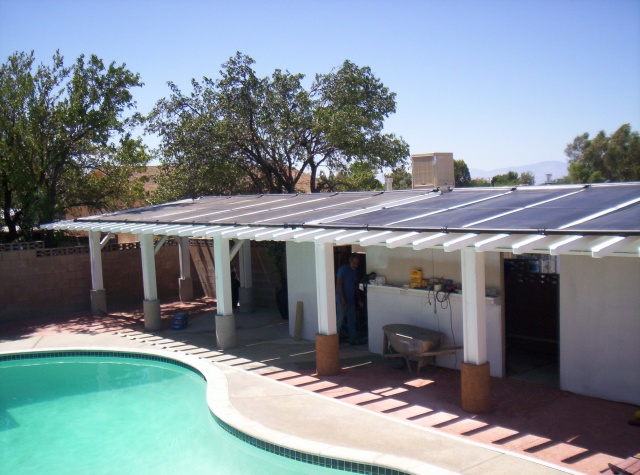 How A Solar Pool Heater Works: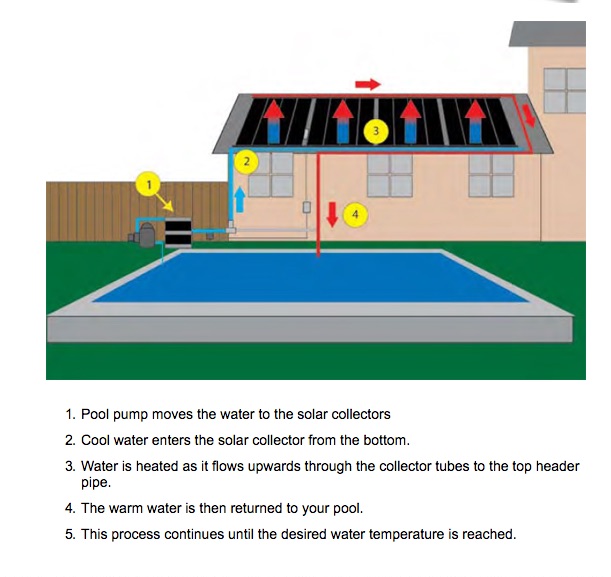 Why our Solar Pool Heater
Panels are the Best…..
Most Efficient, Made In Florida For Florida Climate, Best Warranty ….
Most Efficient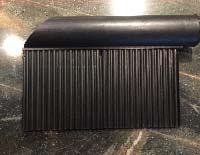 Our Panel (cut away portion):

Our solar pool heater panels for swimming pools are a mat type panel, tubes are connected for insulation preventing air flow cooling effect, producing about 20% more heat vs the individual tube panel above! Tests prove it! The Florida Solar Energy Center (FSEC), which is a non-profit, non-bias research arm of University Of Central Florida has be designated by the state of Florida since the 1970's to test all solar panels sold in Florida. This is to keep solar companies honest about performance. In FESEC testing our panel produced 410 BTU (British Thermal Units) per square ft vs. 340 BTU per square foot. More heat means you can use your pool more months per year.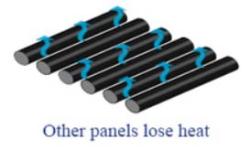 Other panels can cool rapidly during windy conditions because the individual flow tubes aren't insulated by each other. Also, squirrels and other animals can sense water is flowing though the tubes and have gnawed though the panel causing a huge leak!
Made in Florida For Florida!
The Florida sun is brutal… if you have ever looked at some old Florida cars with faded paint you know what I mean. Well that same sun can damage solar pool collectors if they are not made for Florida climate … those out of state made collectors have shorter life because they get brittle and leak water. Our collectors contain 35% more polypropylene and UV stabilizers than any other panel this means that our panels have a much longer life expectancy than the competition. In fact, our panels are so well built that they can withstand the strength of the Florida wind codes of up to 185 mph. Our solar pool heater panels are made right here in Tampa Bay Area!
Solar Pool Water Heater Cost Less Than Gas or Heat Pump…
Solar pool heater installation costs depends on number of panels needed and difficulty of install but in general range about $3,000 to $6,500 for a normal size residential pool. Call us for a free in home estimate.
Solar Heating For Swimming Pools Are The Lowest Cost Way To Heat A Pool In Florida. Just to keep it simple in Florida the average residential pool costs about $100 to $150 a month to heat… it's so much cost and time to heat lots of water that it's not worthwhile to heat for just a few days you need to heat it for a month or more. It's amazing how many people have gas, propane or heat pump pool swimming pool heaters but don't run them because of fuel or electric costs…just ask neighbors and friends…!
I'm going to give a simplified theoretical example as I don't want you to fall asleep running calculations…on number of gallons, BTU's, fuel costs, environment temperature, wind speed, etc… If you fall asleep then your wife or husband will get upset that you didn't come to bed… turn off the computer and our connection will be lost.. lol Cost of heating a pool using traditional water heaters are the equipment costs plus fuel (or Electric) costs:
Swimming Pool Heaters
Here is a theoretical simplified example gas or heat pump vs Solar Pool Heater: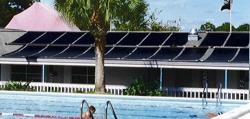 Heat pump or gas, smaller residential pool:
HEATING COSTS $150/MONTH
| | |
| --- | --- |
| Cost of heater | $3500 |
| Electric or Fuel costs…$150/month x 12 months | $1800* |
| Total heating costs first year | $5300** |
OR
HEATING COSTS $100/MONTH
| | |
| --- | --- |
| Cost of heater | $3500 |
| Electric or Fuel costs…$100/month x 12 months | $1200* |
| Total heating costs first year | $4700* |
*Electric and Fuel costs are unpredictable who knows where prices will be in 6 months, 1 year, 5 years, 10 years Electric and fuel prices are scary! BOO!
** add taxes
Solar Pool Heater Panels Water Heater Costs:
Solar panel water heating is cost of solar equipment, no fuel costs, insignificant electric cost to run controller –which you would also have on gas heaters anyways
| | |
| --- | --- |
| An average residential Solar pool heater costs | $4500 |
| Fuel costs | 0 |
| Total cost of solar water heater | $4500*** |
*** There is no sales tax on solar equipment in Florida!
You can see from example above that solar pool heater would pay for itself in 1 year or less. Then free solar pool heating for next 10 yrs or more years life of the solar system. And it doesn't matter if you set your pool heater at 80 degrees or 85 degrees!-because no fuel or electric costs means increased temperature costs you nothing more so long as you have enough solar panels to produce the temperature you prefer.
Worry Free
Once our solar pool heater panels are installed, Easy to use automated system warms your pool when heat is available to your desired pool temperature. Set it and forget it! There is no additional maintenance or cost involved. Sit back and relax in your refreshingly warm swimming pool heated with solar panels. For added peace of mind, we back all of our systems up with the longest and most comprehensive warranty in the industry.
The next step is to contact Green Planet Solar Systems® to get a free solar estimate and analysis and put Solar to work for you! Call us at 727-219-9785 or fill out form to right.
Copyright ©Green Planet Solar Systems Corp.
We serve the Following Pinellas County Cities
North Redington Beach, Belleair Beach, Belleair Bluffs, Belleair Shore, Clearwater, Dunedin, Gulfport, Indian Rocks Beach, Indian Shores, Kenneth City, Largo, Madeira Beach, Oldsmar, Pinellas Park, Redington Beach, Redington Shores, Safety Harbor, St. Pete Beach, St. Petersburg, Seminole, South Pasadena, Tarpon Springs, Treasure Island
We serve the Following Hillsborough County Cities
Apollo Beach, Adamsville, Alafia, Antioch, Balm, Bay Crest Park, Bloomingdale, Boyette, Brandon, Carrollwood, Carrollwood Village, Cheval, Citrus Park, Clair-Mel, Del Rio, Dover, Durant, East Lake, East Tampa, East Lake-Orient Park, Egypt Lake, Egypt Lake-Leto, FishHawk, Florida, Fort Lonesome, Gibsonton, Gulf City, Hopewell, Keysville, Keystone, Knights[33], Lake Fern, Lake Magdalene, Leto, Limona, Lithia, Lutz, Mango, Northdale, Nowatney, Orient Park, Palma Ceia, Palm River, Palm River-Clair Mel, Pebble Creek, Picnic, Pinecrest, Progress Village, Port Sutton, Riverview, Rattlesnake, Remlap, Rocky Creek, Ruskin, Seffner, Snows Corner, Sulphur Springs, Sun City Center, Sweetwater Creek, Sydney, Thonotosassa, Trapnell, Town 'n' Country, Turkey Creek[34], University, Valrico, Westchase, Wimauma
We serve the Following Pasco County Cities
Aripeka, Bayonet Point, Crystal Springs, Dade City Elfers, Gulf Harbors, Holiday, Hudson, Jasmine Estates, Lacoochee, Land O' Lakes, New Port Richey, Odessa, Port Richey, San Antonio, Shady Hills, St. Leo, Trinity, Wesley Chapel, Zephyrhills
Contact us to find out how much money solar can save you! 727-219-9785