Solar Pool Heating, enjoy the warmth of a solar heated swimming pool.
$0 Energy Costs! Ahhhh… Extend your swim season.
Request A Free Solar Quote -We do online Solar Quotes!
Have questions? We can offer a video meeting. 

Solar Pool Heater Panels Can Extend Your Swimming Season Enjoyment!
A warmer pool can increase your  swim season more months of the year. Raise your pool temperature by 10 Degrees or more with Florida's Best Solar Pool Heating System LET THE SUN HEAT YOUR POOL FOR FREE! Eliminate the expensive fuel cost of traditional pool heaters
Summer   2020 Solar Pool Heater Sale!




$500 off solar pool heaters 7+ Solar Panels
or 
18 Months No Payment No interest!*
Expires July 31st 2020   *No Interest  if  loan paid in full by 18th month … please contact us for full details and disclosures.
Commercial Solar Pool heater: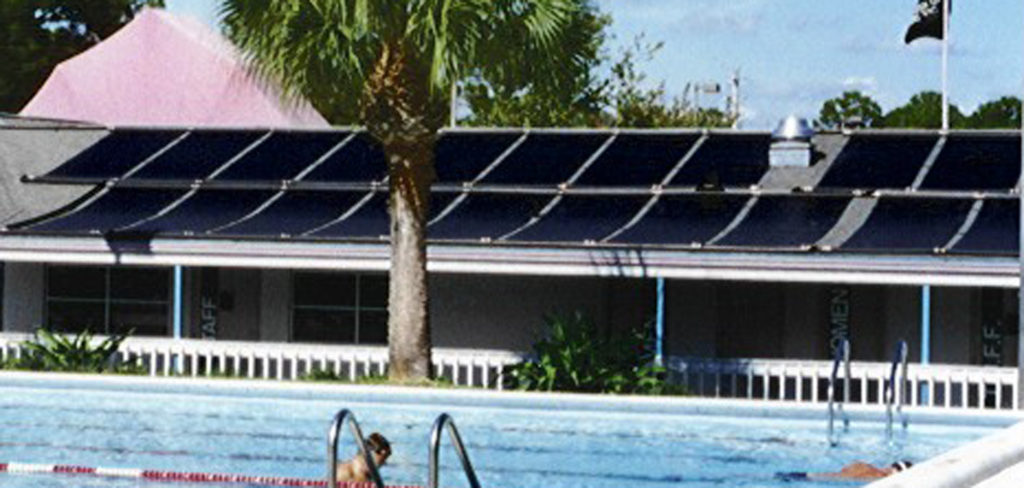 Residential Solar Pool heater: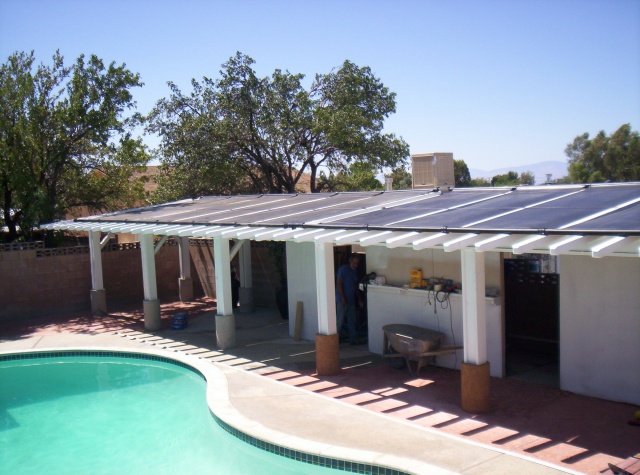 How Does A Solar Pool Heater Work?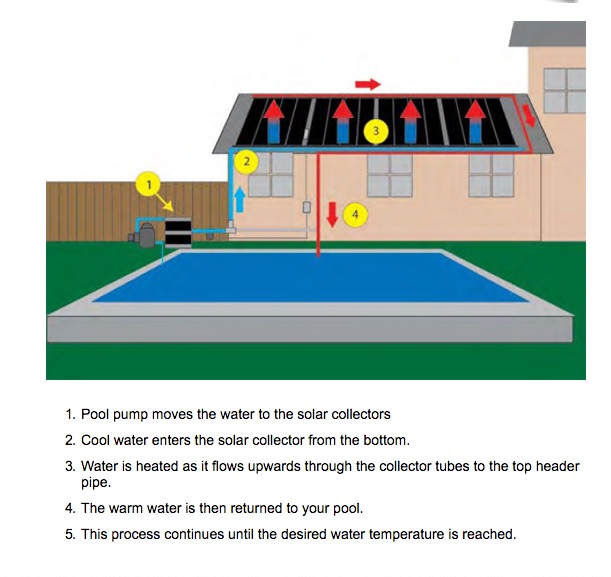 Monitor Pool Water Temperature And Solar Pool                             Heating Panels With A Touch Of A Button!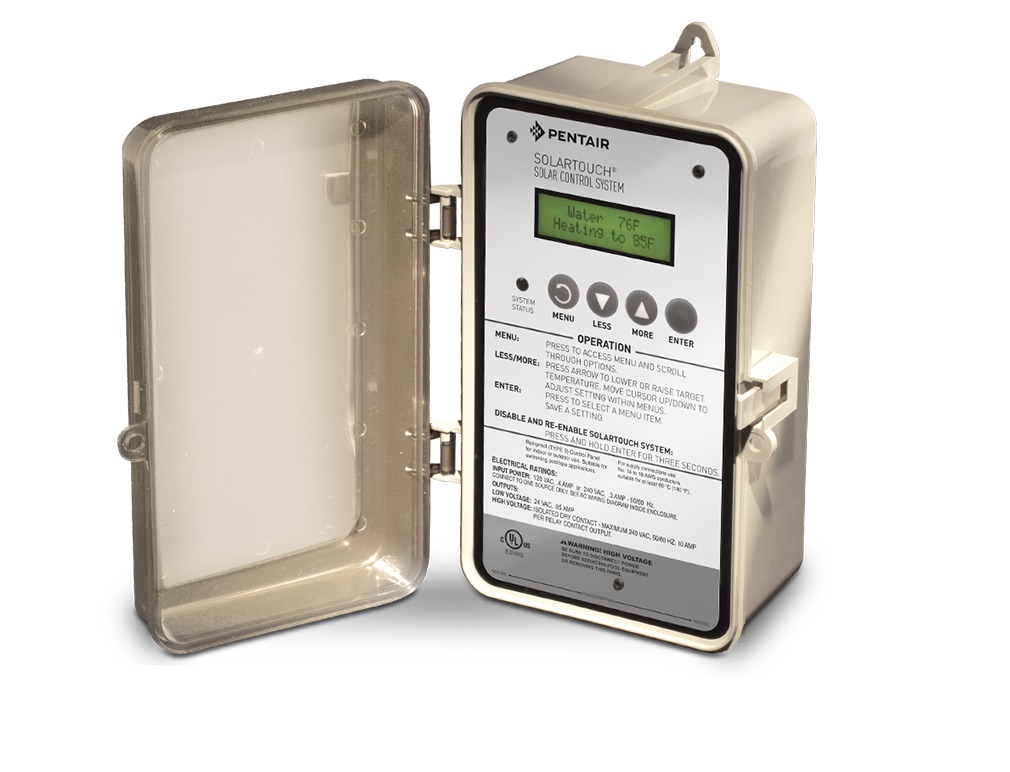 Solar Pool Heating Panels Heat a pool at lowest cost . A Solar Swimming Pool Heater is lower cost  way to heat a pool than a heat pump or gas heater.
Extend your  swim season with a solar pool heater.
Best hurricane rated Solar Pool Heater Is Green Planet Solar Systems
With the highest heat and longest lasting solar panels.
The Best Solar Pool Heater Panels…
Highest Heat, Made In Florida For Florida Climate, Best Warranty
* BTU's on solar pool heater panels approximately 4′ x 12′ as rated by the  Florida Solar Energy Center (FSEC). FSEC is a non-partisan  testing  and research facility that is a division of University Of Central Florida.   FSEC testing showed that Our Solar Panels  produced  the highest per square foot in the industry!  More heat means you can have a warmer pool and longer swim season! Enjoy the Florida pool lifestyle more with a swimming pool heated with solar.Ahhhh!
Durable, Made In Florida For Florida, Highest Heat
1) Re-enforced panel weld  for durability, can withstand hurricane winds of upto 185mph+.
2) Made in  Tampa Bay Area, Florida since 1976…Our solar pool heater panels are made for harsh Florida sun environment that often fades car paint and makes other solar panels brittle and crack…. With 35% more polypropylene and UV stabilizers than any other panel, our solar pool heater panels have a longer life expectancy than the competition.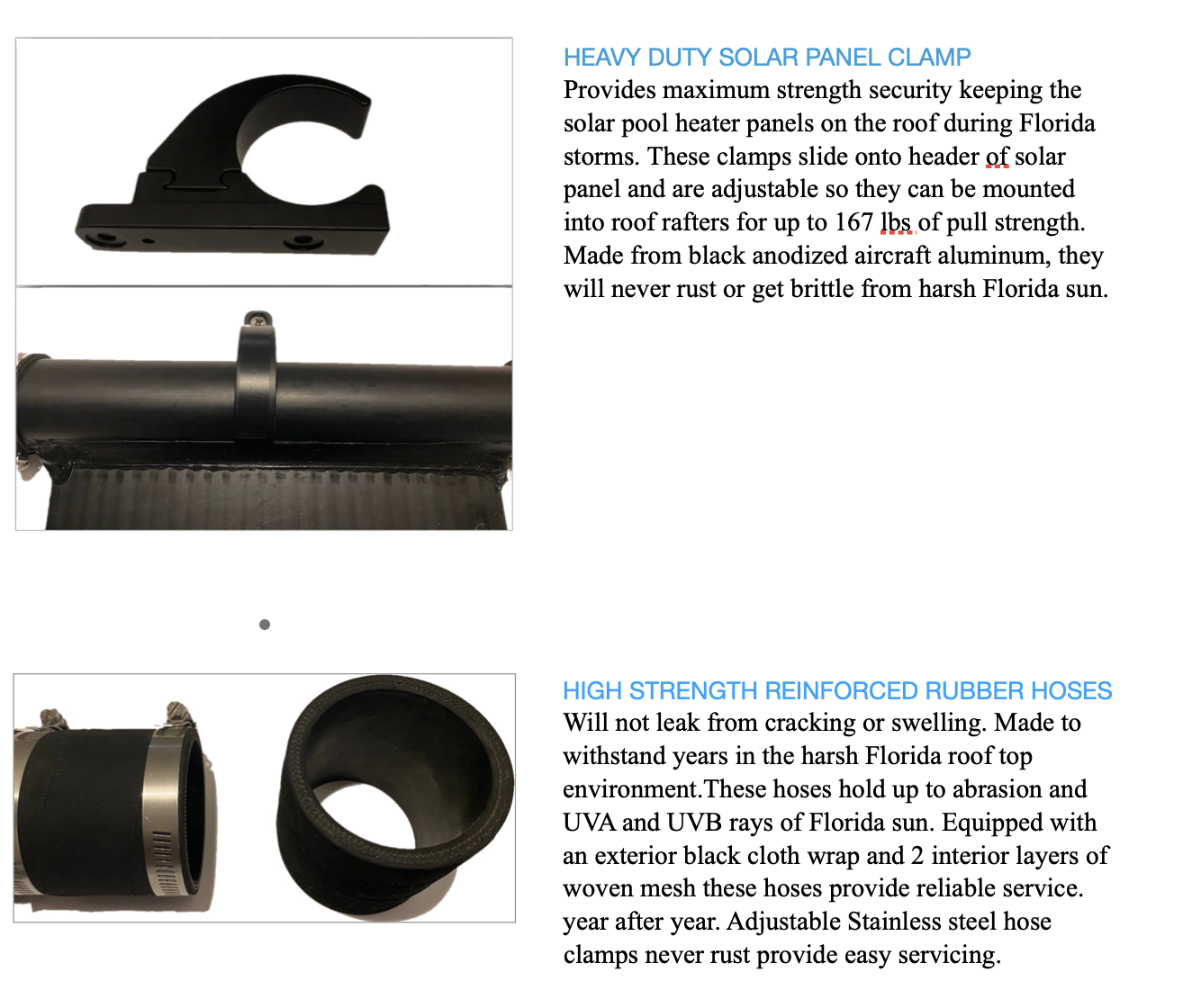 Solar Pool Panels
Swimming  Pool Solar Panels

Best Solar Pool Heater Panels for roof…these are black flat mat design  that is self cleaning keeping your roof looking nice.  Other solar pool heater panels trap leaves and other debris which makes roof unattractive, attracts roaches and other critters. Our flat mat design resists squirrels and other critters  that have been known to gnaw though tube type panels causing a huge leak!
Solar Pool Panels 

Best Solar Pool Heater
Solar Pool Heater Panels Best Warranty
Our Solar Pool Heater Panels have a 10 year replacement warranty! After 10 yrs a lifetime warranty with a discount off a new solar panels applys! 
Other brands have a 10 year fix or repair warranty. This means multiple trips and tries to fix your solar panels  which equals multiple hassels for homeowners!
FHHHFH
fhhfhfhjf Swimming Pool Solar Pool Panels
Solar Pool Heater Cost Less Than Gas or Heat Pump…
Solar pool panels installation costs $3,500 to $8,500 for a normal size residential pool. Call us for a free in home estimate.
Solar Heating For Swimming Pools Are The Lowest Cost Way To Heat A Pool In Florida. Just to keep it simple in Florida the average residential pool costs about $100 to $150 a month to heat… it's so much cost and time to heat lots of water that it's not worthwhile to heat for just a few days you need to heat it for a month or more. It's amazing how many people have gas, propane or heat pump pool swimming pool heaters but don't run them because of fuel or electric costs…just ask neighbors and friends…!
Swimming Pool Heaters
Here is a simplified example gas or Pool heat pump vs Solar Pool Heater: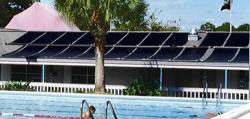 Swimming Pool Heating costs, Electric Heat Pump $100/MONTH
| | |
| --- | --- |
| Cost of heater with installation | $4000 |
| Electric or Fuel costs…$100/month x 12 months | $1200* |
| Total heating costs first year | $5200* |
*Electric and Fuel costs are unpredictable who knows where prices will be in 6 months, 1 yr, 5 yrs, 10 yrs Electric and fuel prices are scary! BOO! ** add taxes
Solar Pool Heater Panels Water Heater Costs:
Solar panel water heating is cost of solar equipment, no fuel costs, insignificant electric cost to run controller –used on other heaters too.
| | |
| --- | --- |
| An average residential Solar pool heater costs | $4500 |
| Fuel costs | 0 |
| Total cost of solar water heater | $4500*** |
*** There is no sales tax on solar equipment in Florida!
From the example, above a solar pool heater would pay for itself in 1 year. Then free solar pool heating for next 10 yrs or more years life of the solar pool heater panels. And it doesn't matter if you set your pool heater at 80 degrees or 85 degrees!-because no fuel or electric costs means increased temperature costs you nothing more so long as you have enough sun and solar panels to produce the temperature you prefer.
Frequently Asked Questions about Solar Pool Heaters (FAQ)
What temperature, how warm does a solar heated pool get? How many degrees does solar panels increase pool temperature?  Do solar pool heater panels work in winter?
According to Florida Solar Energy Center… you can get about 7-10 degrees increase in pool temperature with solar pool heater  vs no solar pool heater.The temperature is based on weather and the desired temperature you set on the solar controller. With a solar pool heater the pool temperature is a cumulation of a weeks worth of weather. If you cover your pool this will help hold heat in during night time and you can get an additional (estimated)  10 degrees in temperature increase.  Keep in mind, it's based on weather … sometimes you will get more or less increase in pool temperature based on weather. But no matter how hot you set desired temperature if the heat is available you get it at no additional cost.  For most people solar pool heaters provide enough warmth to swim from spring to fall …. Most Customers just want to use pool when it's nice outside, this is when solar works well. In Florida winter solar panels will help heat pool some however may not get temperature to desired degrees.   If you still want to swim when it's cold out ie 50 degrees outside and you want 85 degree pool than I recommend supplementing solar with a gas pool heater or heat pump for those cold months.
Will a Solar Pool Heater ruin the shingles on my roof from the heat?
No, Solar Pool heaters will not harm your roof shingles…  Your roof shingles are exposed to hot Florida sun on a regular basis. With a solar pool heater .. now the solar panels are absorbing that sun  rather than your roof shingles. In fact,  the roof shingles shielded by the  solar panels  were in better condition than shingles that surrounded solar panels. Ask us for pictures to prove it!
Will a Solar pool heater Panel fly off roof during a hurricane?
Not with our solar panels. The pipes and panels are secured to the roof and comply with local building codes as per Florida engineer drawings. We recently inspected solar pool heaters after hurricane Irma in Tampa Bay Area…  We found the Techno-solis solar panels stayed  on roof and no problems.  However, we got service calls about other brands of solar panels installed by other companies that  failed… either flew off roof or the solar panels fell apart. This is attributed to a low quality solar panel and/or inadequate installation.
How much is the cost of an installed solar pool heater?
An  installed  Solar pool heater costs $3,500 to $8,000 including installation, all pipes , and solar accessories. The cost of solar pool heaters vary based on: number of solar panels,  pool size, roof direction, pool shading, if pool screened, difficulty of install, etc. For an accurate price please request a free solar quote.
What Is Warranty of Solar Pool Heater Panels?
Our solar pool heater panels have a 10 yrs replacement warranty… after 10 yrs there is a lifetime warranty that offers a discounted price on new solar panel system. although they have been known to last a lot more….15-20 yrs is possible.
How long do Solar pool heater Panels Last?
The life of the solar pool heater is about 6 to 15 yrs … It all depends upon the quality of the solar pool Heater panels, the quality of installation, environment. Florida requires a more robust heavy duty solar pool heater panels because of high UVA and UVB rays and wind loads that will shorten life of a solar panel made for other states.  We have visited customers that experienced  premature solar panel leaks and failures from solar panels made in New Jersey, California, and Israel.
How Much Does It Cost To Heat A Pool With A Gas Heater?
The average home pool in Florida about $100-150 / month roughly …. There are a lot of factors such as weather temperature,  desired temperature of the pool, wind, gas costs, gas heater costs, pool size (number of gallons , surface area, etc …. )
Contact us to feel the warmth of a solar heated pool… Ahhhhh…! Call: 727-219-9785
Copyright © Green Planet Solar Systems® Corp.
We serve the Following Pinellas County Cities: North Redington Beach, Belleair Beach, Belleair Bluffs, Belleair Shores, Clearwater, Dunedin, Gulfport, Indian Rocks Beach, Indian Shores, Kenneth City, Largo, Madeira Beach, Oldsmar, Palm Harbor, Pinellas Park, Redington Beach, Redington Shores, Safety Harbor, St. Pete Beach, St. Petersburg, Seminole, South Pasadena, Tarpon Springs, Treasure Island. We serve the Following Hillsborough County Cities: Apollo Beach, Bloomingdale, Brandon, Carrollwood, Carrollwood Village, Cheval, Citrus Park, Clair-Mel, Del Rio, Dover, East Lake, East Tampa, East Lake-Orient Park, Egypt Lake, Egypt Lake-Leto, FishHawk, Florida, Gibsonton, Lake Fern, Lake Magdalene, Leto, Limona, Lithia, Lutz, Mango, Northdale, Palma Ceia, Palm River, Palm River-Clair Mel, Pebble Creek, Pinecrest, Progress Village, Riverview, Ruskin, Seffner, Sulphur Springs, Sun City Center, Sweetwater Creek, Thonotosassa, Town 'n' Country, Valrico, Westchase, Wimauma. We serve the Following Pasco County: Bayonet Point, Crystal Springs, Dade City,  Holiday, Hudson, Land O' Lakes, New Port Richey, Odessa, Port Richey, Trinity, Wesley Chapel, Zepherhills
Solar pool heater installation in Largo, FL . Solar pool heaters installation  Palm Harbor, FL by Green Planet Solar Systems