Request A Free Solar Quote
Solar Water Heaters
Spring Sale! 
30% Federal Tax Credit!
$500 OFF solar water heaters until March 31st 2019

Solar panels for solar water heating,  also known as Solar Hot Water.

(Solar  hot water you use in the house or business to take showers, wash dishes, laundry, etc.)
Why Solar Water Heaters Makes Sense…

1) An electric hot water heater is normally the second biggest consumer of electricity and cost on your electric bill.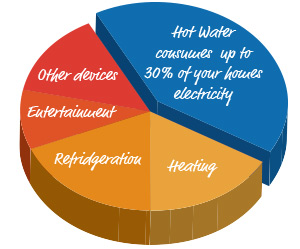 2) Solar water heaters are about 80% efficient with the tropical Florida climate it is very easy to transfer the sun's heat to hot water.
3) Solar Water Heaters qualify for a 30% Federal Tax Credit through 2019.
4) Have Solar hot water even during a power outage.
How Much Money Can I Save With A Solar Water Heater VS An Electric Hot Water Heater?
This depends on how much hot water used, how many people live in home, the local electric rate, etc
Here is some approximate estimate of Solar water heater savings.  Please contact us for a free solar water heater consultation.
If  your electric bill is $240/month average…let's be conservative and use 25% instead of 30% above.
| | | | |
| --- | --- | --- | --- |
| | Cost Of Electric Water Heater | Cost Of Solar Hot Water Heater* | Solar Water Heater Savings |
| Average Monthly Cost | $60 | $12 | $48*** |
| Average Annual Cost | $720 | $144 | $576*** |
| Lifetime (25 Yrs) | $18000 | $3600 | $13,200** |
* If use solar only and not use electrical backup element. ** Includes  hot water tank replacement $1200 *** Based on Family of 4-5, medium to high hot water use.
How A Solar Water Heater System Works
How it works….. The best solar water heater system for Florida. There are many types of Solar Hot Water Heater systems but in the Florida the flat plate solar panel that has best performance and therefore most common. The solar hot water panel has prism glass to magnify the sun and inside the solar panel is copper tubing with copper fins that are black (because black attracts and absorbs heat) to collect the heat…. The water  is pumped from water tank to solar collector , through the tubes and down to tank again.. this keeps repeating  until the sun is not available. The pump in our Solar Water Heater is  powered by a small solar PV (solar electric panel) therefore it can produce hot water even when there is no electricity available.  The system also includes a mixer valve that acts like a temperature regulator. If the water is too hot,  the mixer valve will mix hot water with cold water. The solar water heater does include a electric element for times when it is not hot or sunny enough.
Call Green Planet Solar to learn more about saving money using a Solar Water Heater system!